The different types of utility carts on the market
There are a variety of different types of utility carts on the market, each designed for a specific purpose. Beach carts, for example, are typically designed to transport beach gear, such as towels, chairs, and umbrellas. Paddleboard carts, on the other hand, are specifically designed to transport paddleboards, but usually not much else. And utility carts can be used for a variety of purposes, from transporting items in a warehouse to hauling gardening supplies around the yard. With so many different types of carts available, it should be easy to find one that meets your specific needs. However, what you might not know is that this year, we've found a utility cart that can do it all!
Pros and cons of each type of cart
There are a few different types of carts that can be used to haul beach gear, including beach carts and paddleboard carts. Each type has its own set of pros and cons. 
Beach carts are typically the most affordable choice, but they can often be difficult to steer on pavement and are not always large enough to accommodate the gear that your family might need. Many of the common beach carts are not durable enough to handle all of your beach stuff, and if they are, they probably can't carry anything big like paddleboards or "Lily Pad" style floating mats.
Paddleboard carts are specifically designed to transport paddleboards, making them a good choice for those who plan to spend a lot of time on the water. They are often more expensive than beach carts, but they offer better stability and are easier to steer. The biggest problem with these carts is that they only carry paddleboards and nothing else. While this may be convenient for a quick trip to the beach or lake, you often still need something to carry the rest of the day's items such as chairs, umbrellas, towels, coolers, etc. So then you need a 2nd cart for all of that.
Utility carts are the most versatile option, as they can be used for hauling beach gear, barbecue supplies, gardening tools, or just about anything else. They come in a variety of sizes and can be outfitted with special features like shelves, pockets, or coolers. However, they can be difficult to maneuver and may not have enough clearance to roll over beachfront roads, boardwalks, or parking lots. 
When choosing a cart for hauling beach gear, it is important to consider the terrain where it will be used as well as the type and amount of gear that needs to be transported. By taking these factors into account, it has been tough to find the perfect solution for any summertime adventure.
The best utility cart for 2023
Shore and Chore's utility carts are clearly the best on the market. Here's why we think so:
With more people and families enjoying the great outdoors, we need an easy way to carry all of those things we find we can't do without for a fun and comfortable outdoor adventure. There are many choices on the market, from small to large carts and wagons. The Shore And Chore™ has a competitive advantage over other carts due to its ability to expand and adapt as to fit large, bulky, or long items like surfboards, boogie boards, lounge chairs and umbrellas while still having room for coolers and small toys. Many carts and wagons on the market are unable to adapt to the ever-growing needs of consumers. The Shore And Chores™ standard features and available accessories including bungee cords, an airplane nose, storage for cups and other items, and a bike attachment make the Shore And Chore™ the all-in-one solution for a family outing, a handyman's tools, or as a gardening or warehouse utility cart.
There is no product on the market that offers all the features and advantages of the Shore And Chore™. The first manufacturer to bring this product to market will profit greatly from its inherent uniqueness and cutting-edge design. The Shore And Chore™ is truly in a class by itself.
Our patented carts have telescoping arms on each side that make it easy to load and unload big items such as paddleboards and surf boards, and they can still carry all your gear, from floating mats, umbrellas and chairs to fishing crates and coolers. They're also backed by a lifetime warranty, so you know they're built to last. Shore and Chore's utility carts are the perfect way to get around near the water. Additionally, with a few of our optional accessories like our bike attachment, getting it from the house to the parking lot is a breeze! You won't find a better, more versatile cart on the market. Did we mention you can also use it in your yard or in the warehouse at work? Those telescoping arms can carry big objects like ladders and tall boxes too!
Arriving in January 2023 
The cart won't be available until January 2023, but it's worth the wait! This cart is perfect for carrying just about anything you need to transport. It's durable and easy to maneuver, and it comes in a variety of options to suit your needs. So don't wait any longer, join our pre-order waiting list today and be among the first to know when we start shipping! https://shoreandchore.com/wait-list/ 
When it comes to finding the best utility cart for your needs, there has never been a truly "one size fits all" solution. Until now!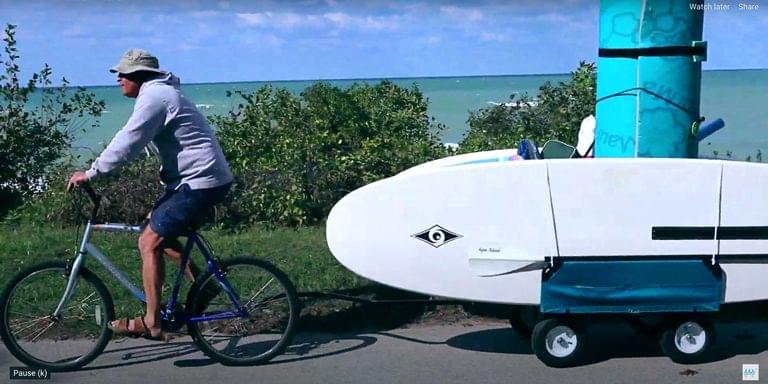 If you're still unsure if the Shore and Chore is right for you, email us at info@shoreandchore.com and one of our experts would be happy to help guide you to the answers you are looking for.