A Bike Cart for Easier Paddleboarding
If you love to paddleboard but hate the long walk from your car to the lake, beach, or river, then a paddle board cart with a bike connector might be just what you need. This simple device helps you easily transport your paddleboard from point A to point B without having to lug it around by hand. But why settle for a traditional cart when you could get one that attaches to your bike? Read on to learn more about how a bike cart for your paddleboard can make life easier for any dad, paddleboarder, or lake house owner.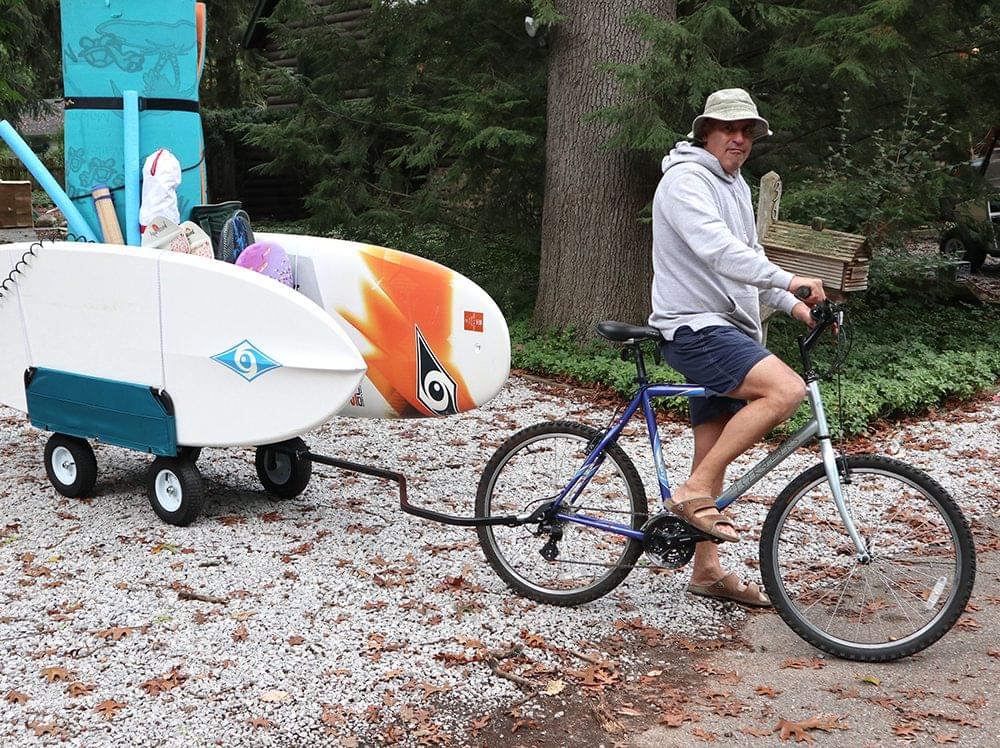 Benefits of a Paddleboard Cart For A Bike
The most obvious benefit of using a bike cart is that it makes transporting your paddleboard much easier than carrying it by hand. There's no need to struggle with lifting and carrying your board; now you can just attach it to the back of your bike and cruise along! It also reduces wear and tear on both the board and yourself—no more straining your back or scuffing up your beloved paddleboard. Plus, if you have other items that need transporting—such as life jackets, paddles, and coolers—a bike cart can help carry those too.
Types of Bike Carts
When shopping for a bike cart for your paddleboard, there are two main types to choose from: rigid carts and folding carts. Rigid carts are sturdier but take up more space when not in use. The Shore and Chore is a perfect example of a rigid cart, and the most versatile.
Folding carts are lighter and more compact but may not be as durable as their rigid counterparts. Depending on where you plan on storing the cart when not in use—in the trunk of the car or in an outdoor shed—you may want one type over another. Whichever option you choose should fit securely onto any standard-size bicycle frame with adjustable straps. The Shore and Chore has a specially-designed bike attachment.
Choosing Your Bike Cart
When choosing a bike cart for your paddleboard, consider what type of terrain you will be driving over (smooth pavement vs bumpy sand) and how often you plan on using it (regularly vs occasionally). Also take into account factors such as material (aluminum vs plastic), size (width & length) weight capacity (how much weight can it hold?), comfort features (padding/suspension), price range, etc., before making a purchase decision. Ultimately, make sure that whatever option you choose is strong enough to handle whatever load you put on it!
A bike cart is an essential accessory for any dad, paddle boarder, or lake house owner looking to make their lives easier while still enjoying their favorite outdoor activities! Not only does it save time by allowing them to transport their boards quickly and easily but also provides peace of mind knowing that they won't have to worry about straining themselves or damaging their boards while doing so. With so many different types available today ranging from rigid carts to folding ones, there's something out there that meets everyone's needs regardless of budget or lifestyle preferences! So don't wait – find the perfect paddleboard bike cart today!